Have something to say? Your opinion matters to us! Be the first to write a review and support small independent makers across the U.S. Every purchase and review supports a small maker aiming to disrupt the food industry.

The Caviar Explorer Duo
Regular price

Sale price

$249.00

Unit price

per
INGREDIENTS:
Caviar and Roe
- Osetra Caviar and salt
- Hackleback Caviar and salt

Blinis: Wheat Flour, Water, Sunflower Oil, Lactose, Milk Proteins, Skimmed Milk Powder, Whey Powder, Dehydrated Egg and Egg White, Raising Agents: Sodium Carbonates and Diphosphates, Salt, Antioxidant: Ascorbic Acid.

Crème Fraîche: Pasteurized Cultured Cream from Cows' milk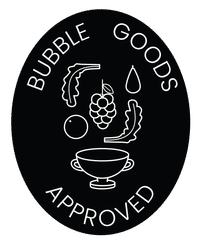 Note: This product ships Monday - Thursday to ensure optimal freshness. Orders placed by 1PM EST are eligible for same-day shipping.
ABOUT:
The Caviar Explorer Duo, made exclusively for our partnership with Bubble Goods, allows you to explore caviar and roe through four different species. This kit is perfect for caviar newcomers and caviar lovers alike with its mix of 'starter' and 'advanced' caviar and row varieties. This kit includes:
1 x 1oz tin of Classic Osetra Caviar (Sustainably farm-raised, Imported)
1 x 1oz tin of Hackleback Caviar (Responsibly caught in the wild, Domestic)
Blini and Créme Fraîche
2 Mother of Pearl spoons
Free Overnight Shipping all across the United States
HOW TO ENJOY:
This kit is the perfect amount of caviar for 1 or 2 people to fully enjoy and taste. You can enjoy the caviar and roe on its own with a mother-of-pearl spoon; with classic accoutrements like blini or créme fraîche; cucumber slices, or with a gluten-free cracker that imparts little taste.
GETTING TO KNOW OUR CAVIAR AND ROE:
Caviar has historically been a very opaque concept for many - and we're here to change that. Our Caviar Explorer Duo features:
Classic Osetra Caviar (Acipenser gueldenstaedtii): The Classic Osetra caviar is known for its olive green roe that comes with a complex flavor profile with smooth and creamy top notes followed by a nutty flavor undertone. Paramount Caviar's Classic Osetra is sustainably farm-raised and imported from China.
Hackleback Caviar (Scaphirhynchus platorynchus): The Hackleback caviar is one of the quintessential American caviars. Hackleback caviar is known for its shiny jet-black pearls and smooth and buttery flavor profile. Paramount Caviar partners with local fishermen in Mississippi and Tennessee to procure our wild-caught Hackleback caviar. This wild caviar is harvested from Hackleback sturgeon in accordance with fishing laws and regulations.
CAVIAR VS ROE: WHAT IS THE DIFFERENCE?
Roe is any type of fish egg whether it be salmon roe, sturgeon roe, or pike roe - if it's a fish, then its eggs can be called 'roe'. Caviar is only the roe of the sturgeon species of fish. Applying this definition to your kit, the Classic Osetra Caviar comes from an Osetra Sturgeon (Acipenser gueldenstaedtii) and is caviar (sturgeon roe). For example, the Trout Roe featured in The Caviar Explorer Quartet comes from Danish Rainbow Trout (Oncorhynchus mykiss) which is not a sturgeon species, and therefore, not caviar.
HOW ARE THE CAVIAR AND ROE NAMED?
Our caviar and roe varieties are directly named for the sturgeon and fish species that they come from. Our Classic Osetra caviar comes from the Osetra Sturgeon and our our Hackleback caviar comes from the Hackleback sturgeon. In addition to the two caviars featured in this kit, The Caviar Explorer Quartet includes Royal Siberian Caviar which comes from the Siberian Sturgeon, and Trout Roe which comes from Danish Trout. 
WHERE DO THE CAVIAR AND ROE COME FROM?
Paramount Caviar partners with sturgeon farms and local American fishermen to source the highest quality caviar year-round for all of our customers to enjoy. All of our imported caviar and roe come from sustainable sturgeon/fish farms that are led by marine biologists and aquaculture farmers to ensure that the fish are provided with a respectful and sustainable environment to thrive. Our domestic caviar from the United States comes from wild-caught sturgeon in accordance with fishing laws.
All of our imported caviar is sustainably farm-raised and absolutely never comes from wild-caught sturgeon. In the early 2000s, the United States Fish and Wildlife Organization placed a ban on imported caviar that was harvested from wild-caught sturgeon as certain sturgeon species had reached critical population numbers due to over-fishing. To this day, there are certain sturgeon species whose caviar cannot be imported into the United States regardless of whether the sturgeon was farm-raised. In accordance with US federal law, Paramount Caviar does not import any wild caviar from any country.
HOW LONG DO THE CAVIAR AND ROE LAST?
Our caviar and roe are freshly packed per order and do not contain any un-natural preservatives nor is it pasteurized. Our caviar and roe only contain the actual fish eggs themselves and natural salt to slightly enhance the flavor while acting as a natural preservative. In its original vacuum-sealed tin, our caviar and roe can last in your refrigerator for up to three weeks. Once the tin has been opened, the caviar and roe should be consumed within 3 days.
HOW IS THE KIT SHIPPED?
Shipping is extremely important when dealing with a perishable product like ours. Our kits are shipped overnight from our facility in Queens, NY using reusable ice packs, insulators, and a reusable cooler bag. This coupled with our vacuum-sealed tins that the caviar and roe are packed in ensure that your kit will arrive safe to eat and ready to be enjoyed.
ALLERGY WARNING:
Caviar and fish roe are the salt-cured eggs of fish which is a known allergen and may also elicit an allergic reaction.
Blinis contain wheat, lactose, milk, whey, eggs
Créme Fraîche is a dairy product that is pasteurized cultured cream made from cow's milk
MEET THE MAKER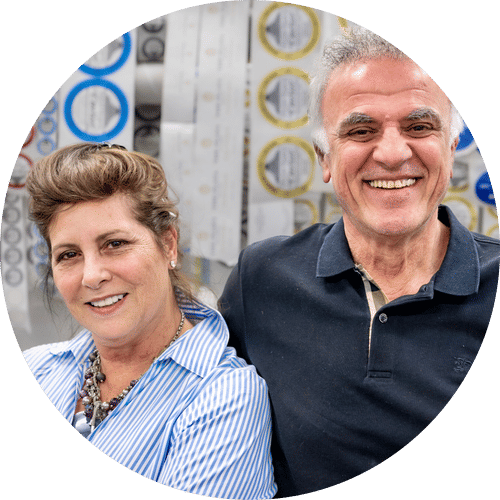 Paramount Caviar
Long Island City, NY
In 1991, Hossein Aimani and Amy Arrow-Aimani started Paramount Caviar in pursuit of providing the highest quality caviar to the most discerning palates. Over the years, their caviar has been experienced in the country's most high-end restaurants and hotels, and now in the comfort of your home. No matter where you are or what the occasion is, caviar should be a celebrated experience. We are honored to serve you and to be a part of your memories.